Well..... there is this hole in the wall bookstore on the way to where I was headed last week. It was a Sunday, and I told myself if there are at least three cars I would stop.
There are three booths, and I thought well one worker, and if there were two others there I would at least have a little fun. I pulled off the highway, and there were two pickups and a car. So I stopped.
I quickly paid my money, and went into the far booth. There was someone in the first and middle booth. I quickly pulled my cock out and was hard as I sat in the old grimmy hard chair and looked through the hole to see who was next to me. He looked pretty slim, and had a nice cock... He was stroking, and bent down to look at me.
I invited him to put himself through the hole in the wall, and I spent some good time with his member. He was good and hard....
soon he pulled out and wanted me to allow him to oblige me. So of course I did.... he was good at what me did, but soon it stopped and I pulled out and he again put his cock through...
After of me going to town on his manhood, He pulled out and started to look through the hole more. I continued to jackoff, and he whispered let me see your ass...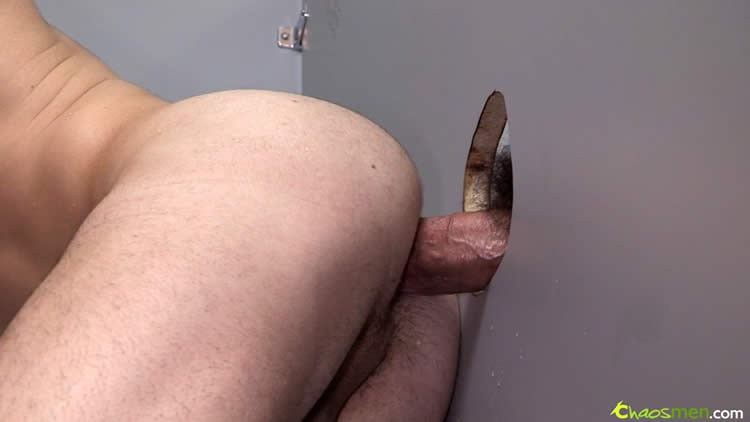 I did and I moved it back to meet him... He fingered me, and it felt good.... soon, I could tell his cock was there... I pushed back and could feel him headed in my hole... it felt good.
I pushed more and it was great... It started to get uncomfortable, so I pulled around and spit on his cock to get a little more on it... I then held his cock and pushed back on it more... It felt good, but wished I would have brought some lube....
He hit my spot and soon I shot on the floor. Like a naughty little bottom.... I let him slip his cock back through and I cleaned up and left. I got to the car, and got situated. I noticed the guy in the far booth leave right after me... He was an older guy, but the middle booth guy, the one with his cock just inside of me, got in his truck next to me. I only got a glance, but he seemed pretty nice looking and had a cowboy hat in the dash of his truck... I followed him out of the parking lot. He went east... I went west....
But the rest of the story... USE LUBE. my asshole hurt so bad for the next 4 hours I was driving in my car. I made it through the weekend, but going to the bathroom was sooooo painful... And usually there was some blood when cleaning up. I know it is hemorrhoids mostly... I have had that issue for ever, That was a bout a week ago, but I have since got some over the counter meds, to make sure things come out better, and I'm doing pretty good now.